高西 知泰 [Flower Triangle]
TAKANISHI Tomoyasu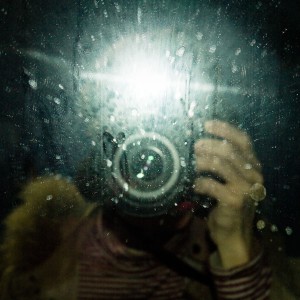 ミュージシャン/フォトグラファー
1978年愛知県生まれ。広島、大阪、東京と拠点を移し、現在広島在住。
音楽プロジェクト"Flower Triangle"名義ではクラブミュージック/電子音響~アコースティック、即興をベースにしながら、近年は歌や声にも焦点を当てた多元的なエレクトロニック・ミュージックを展開。
ミュージシャンとして培って来た独自の視点、反射神経により街や風景、人物をスナップショットで切り取った写真作品や、音と写真を組み合わせた作品の発表、展示を多く行い、移動や旅を基盤に撮影していくなかで、写された光景の時間・空間軸にオルタナティブな文脈を付与することをテーマとしている。
2013年フォトTシャツレーベル"pictonico"を立ち上げる。
2017年、写真事務所/撮影スタジオとしての「studio triangle」の活動を本格化。
https://studiotriangle.jp/
1998年より広島で本格的に音楽活動を開始、ドラマーとしての活動を続けながら電子音楽の作品制作も始め、2000年、半野喜弘に見出されソロの音楽作品でcurrentよりアルバムデビュー。
2001年から2007年まで大阪で活動する。この間、currentより2ndアルバムリリース後、Flower Triangle名義でnovel soundsよりアルバムをリリース。
2007年から2011年まで東京で活動する。naph、Chihei Hatakeyamaと"All The Frogs Are Our Weekend"を結成し、ドラマーとして参加。2010年kiti labelより1stアルバム"flop"リリース。8月にはライブアルバム"frogs in the soup"をiTunes配信限定リリース。
2011年、Flower Triangle名義でのニューアルバム"march"リリース。
2003年以降、写真家としても活動しグループ展、個展、イベント等で写真作品を発表。
2005年CD付きポストカードブック「トレモロ」発表。
2006年MiO写真奨励賞グランプリ受賞。
2007年国際写真賞「Paul Huf Award」(アムステルダム写真美術館)に注目の新進写真家の一人としてノミネートされる。
2011年1月、音楽とのインスタレーション写真展「has gone」(東京・ルーニィ247フォトグラフィー)。
2013年8月、香川県観音寺市にて瀬戸内国際芸術祭2013関連事業「うららおとくち」写真展示。
2015年4月、個展「march」(東京・the ETHNORTH GALLERY)
TAKANISHI Tomoyasu is a composer, drummer, photographer.
In music field, built on cross-genre sound -club music, electronics, acoustic, improvisation, he creates multifaceted sound focusing on songs and voices in parallel.
In photography field, he takes snapshots of city, landscape, people with acquired perspective and reflexes as a musician. And he exhibits many installation of sound and photo.
He launched photography t-shirt label "
pictonico
" in 2013.
–music field
Discovered by Yoshihiro HANNO (a.k.a. RADIQ), TAKANISHI's two CD albums have released from the label "current" he produced.
3rd album "miniascape" has dropped from "novel sounds" on June 2005.
As a drummer, playing drums in the band "All The Frogs Are Our Weekend", and two album released.
4th album "march" has dropped on Oct, 2011.
–photography field
TAKANISHI Tomoyasu exhibit his photo works at solo and group exhibition, live show, since 2003.
published postcardbook "tremolo" in 2005.
Awarded a grand prize on "MiO Photo Award" in 2006.
Nominated "Paul Huf Award" in 2007.
4th solo exhibition "has gone" (Tokyo / Roonee 247 Photography) in 2011, -an installation of photo and sound works.
photo exhibition in related project of ART SETOUCHI 2013.
5th solo exhibition "march" (Tokyo / the ETHNORTH GALLERY) in 2015.